Thinking about Moonhole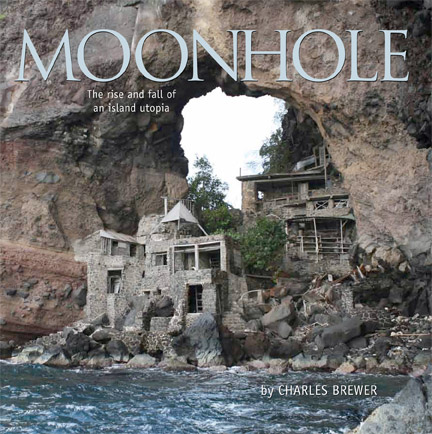 This is one of 2013's projects, a book about a private community on Bequia, an island in the Grenadines.
It will be 220 pages, full color with amazing photos of houses designed by Tom Johnson, the proprietor of Moonhole.
The mock up provided by my client (and the book's author) used Comic Sans for the title.
Design has always seemed like detective work to me. Good solutions require ferriting out all of the pieces of the design puzzle before conceptualizing begins. The first piece of this puzzle was why Comic Sans? The client's answer: it looked "slightly sinister and slightly comic."
Further questioning indicated both the client and the book's editor prefer formal and classic fonts and design. Based on this knowledge, most of the fonts I then considered were serif, rather than sans.
The image was non negotiable. This image is arresting to be sure, but it is panoramic and had to wrap the entire cover. Thus, the size of the image was also set, resulting in little space for the title and other cover lines.
Another client comment: "The moon is round." Sure is when it is full. This is where my sense of logic and illogic meet—any font considered for the title had to have round "moonholes."
We looked at 20 different versions of the word "moonhole," in fonts styled in u&lc and all caps. Then we applied our choice to the image. That is how Trajan Pro became the winter, with Officina Sans used for the secondary lines to add a bit of contemporary to the final result.